For starters, what is stone fruit? I've always thought that it must have something to do with the rock-hard pit in the middle of my peaches, but it seemed too obvious. Turns out, I was exactly right. Stone fruits — like peaches, nectarines, plums, apricots — all have hard "stone" pits in the center. They're at their peak from June to September, so now is the perfect time to eat them. Or scarf them down by the pound, if you're like me.
Before you start cooking, though, you want to make sure that you've picked the best pieces from that huge pile of fruit at your market. And because one characteristic of stone fruit seems to be the high price tag, we have some tips for storing them too, so they don't go rotten before we eat through them all. Like that's even possible.
Peaches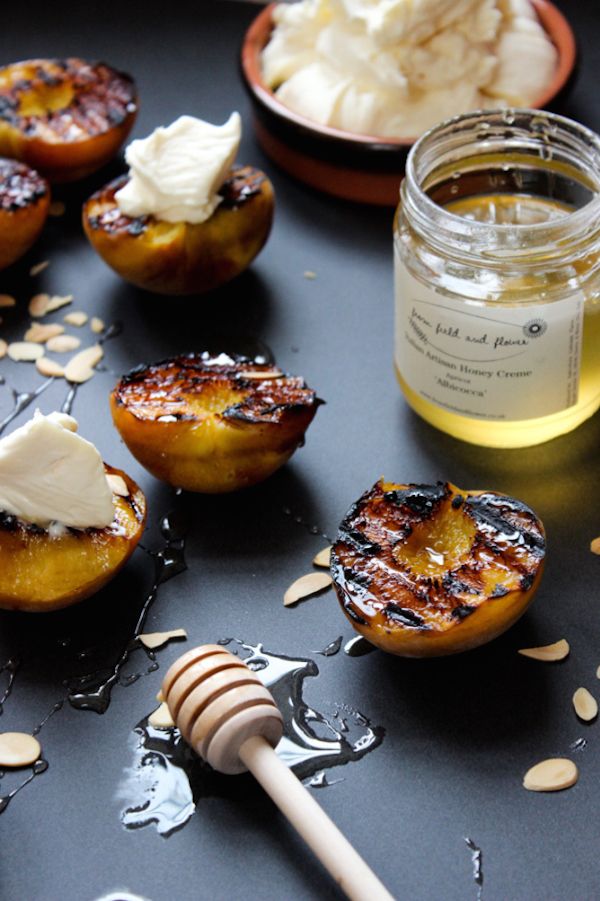 Grilled Peaches with Honey Mascarpone Cream | The Life Harvest
How to pick them:
When it comes to any fruit, the easiest way to get the best is to buy from a local farmer who hasn't shipped his fruit across the country to get it to you, and this is especially true of peaches. Keep some cash on hand and pull over for farmers in trucks parked on the side of the road or look for them at your local farmer's market.
Choose peaches with the most saturated skin color and avoid any green around the stem — those aren't ripe yet. Then give them a light squeeze. You don't want them rock hard unless you aren't planning to use them for a few days, and you don't want them too soft or they will be a mess to eat or peel.
Then again, you could just lick up the juice as it drips down your arm. We won't judge.
How to store them:
Once at home, don't put fresh peaches in the refrigerator. Keep them out on your counter, stem side down. They'll keep on ripening, so eat them fast!
Classic Peach Pie | Sprinkled With Jules
How to use them:
If you're lucky enough to find fresh, local peaches but don't have time to put together a classic peach pie like this one that we found on Sprinkled with Jules, you can still make a memorable dessert by grilling them. You can find step-by-step instructions for Grilled Peaches with Honey Mascarpone Cream at The Life Harvest.
If you're as into the recipe as I am, order this delicious Italian honey today. This is one time I suggest not buying local, unless you live in Italy. The light, almost clear honey is perfect for this dish.
Peach Ice Cream | Table and Dish
Then again, there's homemade peach ice cream from Table and Dish. Enough said.
Related: 9 must-bake summer fruit pie recipes to enjoy before the season ends.
Nectarines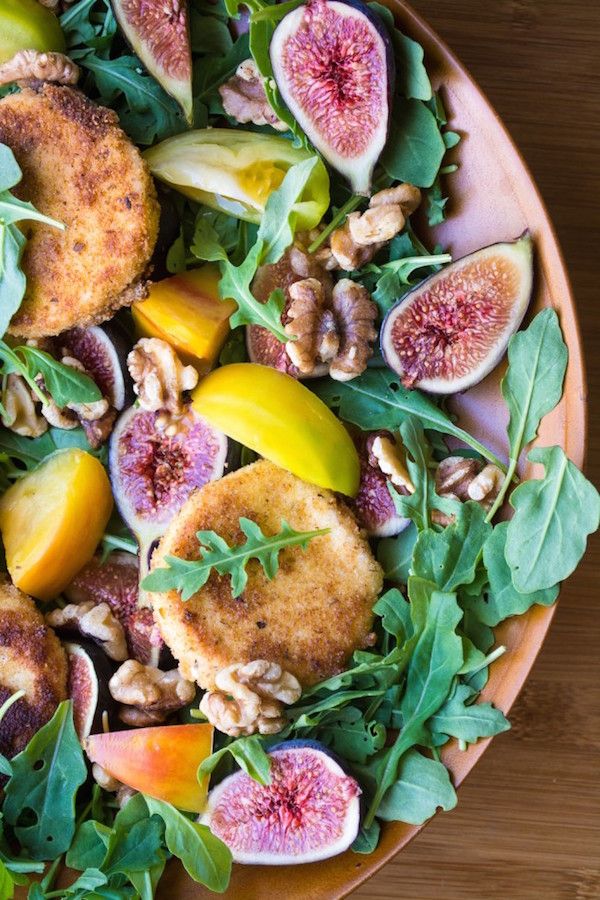 Fig and Fried Goat Cheese Salad | The View From Great Island
How to pick them:
Nectarines are almost like peaches, but with a smoother skin, which comes in really handy when it's time to cook. You don't have to peel them the way you do peaches.
When you're trying to pick good ones, choose nectarines that have an orange or gold undertone. They'll be deliciously sweet.
How to store them:
Like peaches, nectarines need to stay on your counter until you use them, unless they're already as ripe as you want. Then they can go in your fridge.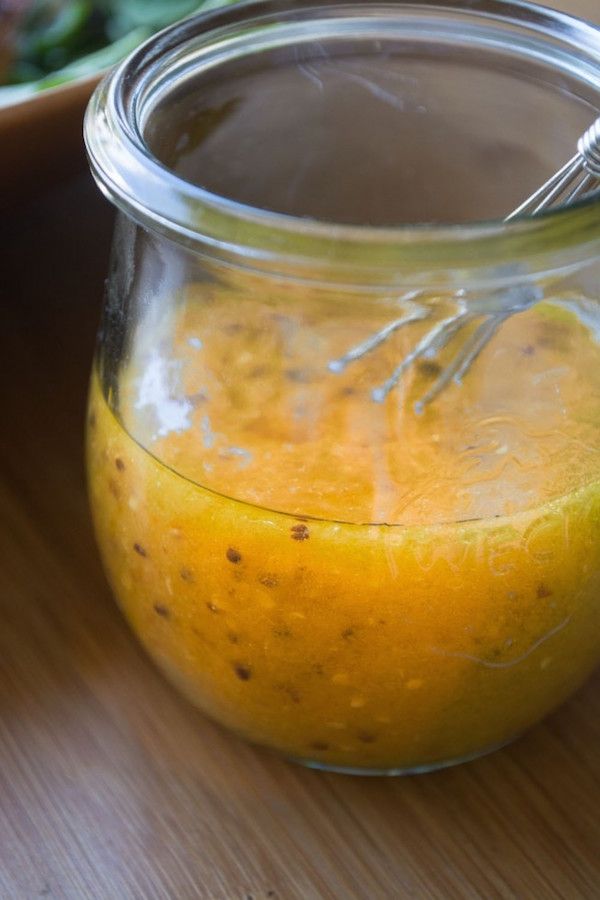 Nectarine Vinaigrette | The View From Great Island
How to use them:
Grill them. Add them to a pie. Make them into jam. Freeze them for sorbet. There are so many ways to use this juicy fruit, but I'm kind of smitten with Sue's recipe at The View from Great Island for Nectarine Vinaigrette which she uses to dress her Fig and Fried Goat Cheese Salad (above). If I'm not careful, this could easily be added to my weekly (ahem, daily) lunch menu. If you have extra nectarines lying around, slice them up and add them to the salad too.
Related: In Season! Easy cherry recipes that aren't all dessert. But some are.
Plums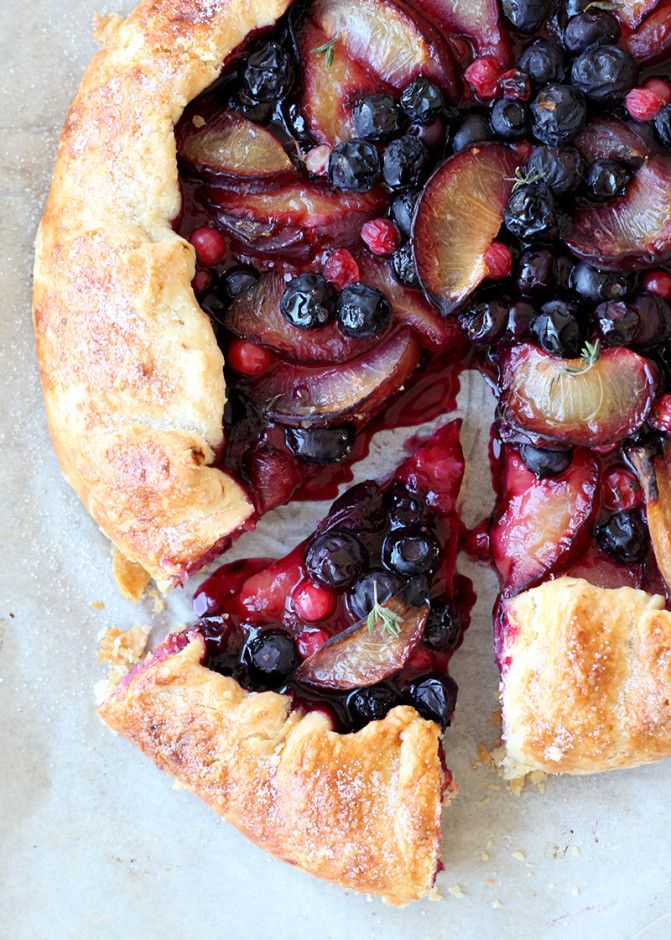 Plum Blueberry Galette | Style Sweet CA
How to pick them:
When buying plums, see if your grocer will share samples so that you can try them first. There are hundreds of varieties, from tart to sweet, and my kids hate some and love others. I'm kind of in the same boat, to be honest: My favorite varieties have more colorful flesh, like Santa Rosa or Frontier plums. That said, you can pass off plums with a white center, like a Black Amber plum, as an apple if your kids are picky; don't tell them it's a plum until they eat it and like it. Once you find the perfect variety for your family, keep a note with the name to make sure that you always get the right ones or a similar type.
When choosing a plum, pick it up and hold it in the palm of your hand. It should be heavy and firm, but not hard. The skin should be slightly dusty. You can buy them hard and let them soften in a paper bag on your counter, but it won't sweeten as it ripens. A chemical reaction takes place when it's picked from the tree that keeps plums from getting any sweeter than it was that moment.
How to store them:
You may start to notice a pattern when it comes to storing stone fruit: the rules are similar across all of them. Plums should be left at room temperature until ripe, then they can be stored in the refrigerator, preferably in a sealed container or plastic bag, where they will last another 3-5 days.
How to use them:
Whether you're just building up a taste for plums or they're your favorite fruit, baking them into a pie or galette, like the Plum Blueberry Galette that we spied at Style Sweet CA, is a delicious way to let the juicy sweetness of the fruit come through. Plus, plums are easy to combine with berries which might be a more familiar taste to you or the people you're feeding.
Plum Barbecue Sauce | A Cupcake for Love
Then again, with football season and Labor Day weekend cookouts coming up, I might grab a basketful of plums to make this tangy Plum Barbecue Sauce at A Cupcake for Love. Yum.
Related: The difference between a crisp, crumble, cobbler & recipes for the most delicious fruit desserts.
Apricots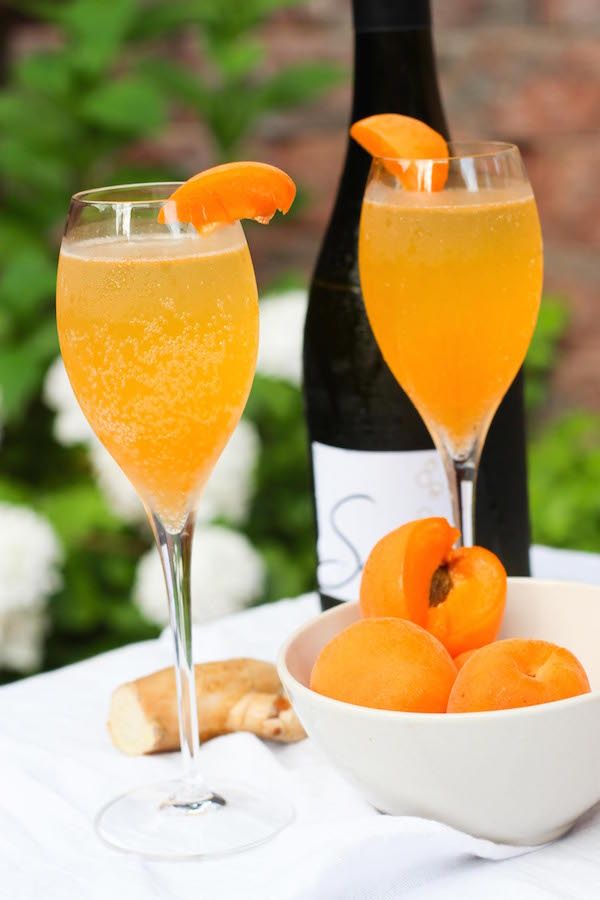 Apricot Ginger Bellini | Platings and Pairings
How to pick them:
I rarely see apricots at my grocery, and I don't hear about people eating them much anymore. Turns out, the growth of Silicon Valley kind of took over the best apricot farms in California, forcing the farmers to move to an area where apricots are now turning out mealy and mushy. But you're not completely out of luck. If you can find a grower in your area, chances are you'll find some seriously delicious fruit.
Don't be afraid of funny-looking apricots with blemishes or cracked skin — they usually taste the best. Other than that, you want to choose apricots that are firm to touch, plump looking, and have a more orange than pale yellow color.
How to store them:
If you cannot find apricots that are quire ripe, leave them on the counter for up to 5 days or pop them into a paper bag that you fold over and leave at room temperature. This will help them soften within 2 – 3 days. Once they are soft and before they get mushy, place apricots in the refrigerator, in a sealed container or plastic bag, if possible.
Just remember, stone fruits emit ethylene as they ripen, so if you store your apricots with other fruits that do this, they'll ripen very quickly. And finding a mushy, overripe pile of apricots when you're ready to make your dessert is a serious bummer.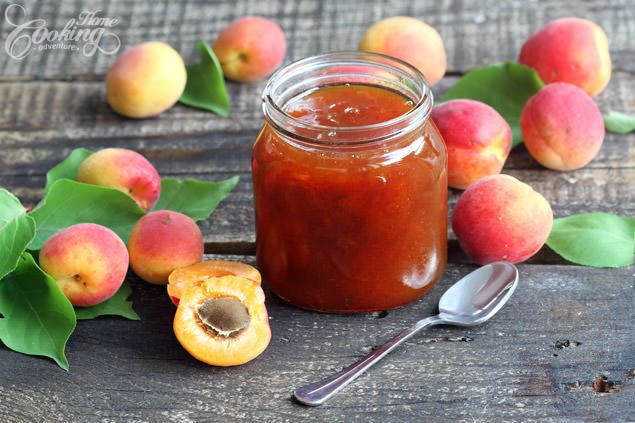 Apricot Jam | Home Cooking Adventure
How to use them:
You can substitute any stone fruits for another in all of the recipes here and you'll end up with something delicious. That said, I think apricots are perfectly suited for apricot jam like this one from Home Cooking Adventure, especially if that jam is slathered on a shortbread cookie.
If you don't feel like making jam, try juicing apricots. Add a couple cups of apricot juice to your mulled wine or apple cider recipes at Christmas; I promise, you'll love it. Or, if you're not quite ready to think about the winter holidays, try this Apricot Ginger Bellini (top) at Platings and Pairings, which you can easily turn into a mocktail by subbing ginger ale for the sparkling wine.
Lead photo: images72 via Shutterstock
TAGS: BBQ + GRILLING, BRUNCH, COCKTAILS, DESSERT, DRINKS, EASY RECIPES, FRUIT, HOW-TO, ICE CREAM, LUNCH, MOCKTAILS, PIES, SALAD, SUMMER, TIPS AND TRICKS
Senior Associate Editor Kate Etue divides her time between the book industry, checking out the newest trends for kids, whipping up our weekly meal plans, and homeschooling her children in a cool suburb of Nashville.